Contenu
Sensors to detect when foaling begins
Sous-titre

Ensuring peace of mind for the breeder while promoting the welfare of the mare
Texte
EasyFoal is a foaling detection system based on an analysis of the mare's pre-foaling behaviour. Thanks to a sensor placed on the mare's tail, EasyFoal sends you an alert when the first signs of foaling appear. With EasyFoal, you can sleep more soundly during the foaling period – no more waking up in the middle of the night for no reason! The system monitors the mare 24/7, both in the stall and in the paddock, so you can intervene at just the right time.
Your mare and her foal are safe
Their welfare is ensured
Your enjoy peace of mind !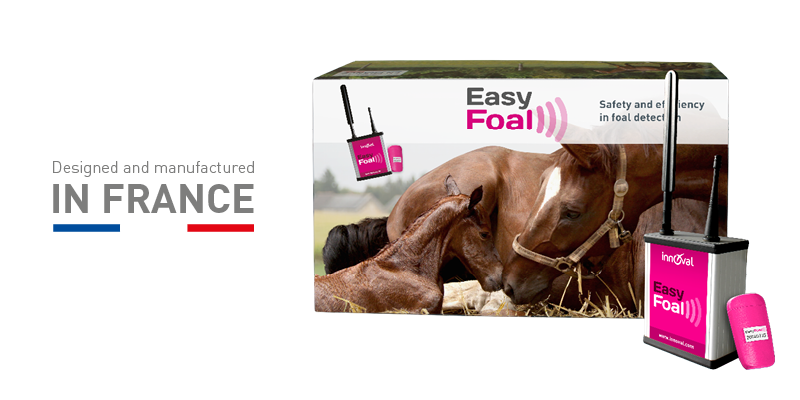 Contenu prédéfini
Benefits
Accurate
Accurate detection
Accuracy > 90%
24/7 monitoring
The sensor can stay in place so that it monitors the mare both during the day and at night
Very few false alarms
A rate of < 10%
Convenient
The sensor is simple and fast to install
With its special strip (included). It can be installed by anyone, in just a few seconds
A sensor with a long life
It can be installed as early as 15 days before foaling
No need to recharge the sensor
Battery valid for 7 years – no maintenance required
Durable
Non-invasive, to preserve the mare's welfare
No surgical procedure required to install the sensor + no feelings of discomfort
A sturdy sensor
Impact- and oxidation-resistant
Automatic standby function
To preserve the battery when the sensor is not in use
Customisable
Several people can receive the alerts
Text message and/or voice call
Detection in the stall and paddock
Up to 1 km around the collector
An outdoor version of the collector is available
Waterproof and battery-powered (can run in standalone mode)
Sous-titre

Testimonials from satisfied users
Texte
"At the stud farm, we deliver more than 70 foals per season, and we've been using EasyFoal for three years. The system is simple and fast to install and is also really convenient to use. It notifies us 5 to 20 minutes before foaling begins. As soon as I receive the alert, I go to see the mare, to make sure everything is running smoothly. It's extremely accurate. Since I've been using this sensor, I've stopped using belts and magnets. The EasyFoal sensor has allowed me to respond to foaling complications when the mare's water hadn't broken. I'm someone who's demanding on the job, and EasyFoal totally meets my expectations".
Philippe THIRIET 
Manager of the Cercy-la-Tour stud farm (Nièvre)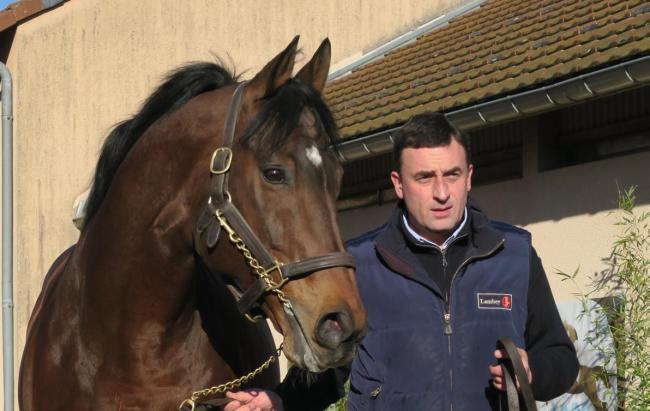 INNOVAL expertise
Sous-titre

Working to ensure the sustainability of our animal production areas
Texte
INNOVAL is the leading cooperative for pre-production livestock farming services. Innoval cross-fertilises essential skills in the area of farm management, including skills relating to genetics, reproduction, consulting, and health management.
Owned by 30,000 French livestock farmers, it provides customised, local support to farmers in 26 départements. Driven by the values of proximity, agility, simplicity, commitment and customer focus, its 1500 employees guarantee the freedom of the farmers they meet with on a daily basis.
EasyFoal, the result of 100% INNOVAL innovation, is part of a range of monitoring tools. This range includes various devices for cattle and horses that are all intended to facilitate the organisation of animal production work and the management of performance of herds and also provide peace of mind for breeders and preserve the welfare of animals.